Final Reports and Presentations
With incredibly impressive results from both Team Voyager and Team Explorer, the jury deliberated tirelessly to come up with a winner. Both teams displayed outstanding ingenuity while outlining practical considerations with strong risk reduction plans. But in the end, a winner had to be chosen. Because of their strong sales pitch and budget that had a 30% reserve, the jurors chose....
TEAM EXPLORER as the winner of the 2017 Caltech Space Challenge!
Team Explorer: LEEP Mission
Back row: Ilana Gat (Co-Chair), Harold Javid (Microsoft), Abhishek Anand, Jerome Gilleron, Sonia Ben Hamida, Peter Buhler, Daniel Crews, Thomas Diedrich (Airbus), Thibaud Talon (Co-Chair)
Middle row: Isabel Torron, Danielle DeLatte, Nikhil More, Samuel Wald, Andrew Kurzrok
Front row: Andreas Marquis, Flora Mechentel, Manuel Diaz Ramos, Shane Carberry Mogan, Alexander Reeves, Padraig Lysandrou
Team Voyager: ICE RUSH Mission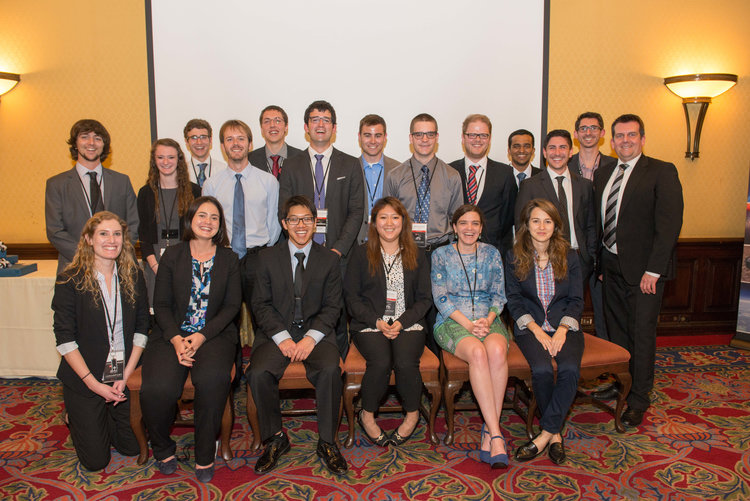 Back row: Matthew Vernacchia, Vinicius Guimaraes Goecks, Joseph (Joey) Sparta, Sumudu Herath Mudiyanselage, Thibaud Talon (Co-Chair)
Middle row: Donal O'Sullivan, Sydney Katz, Daniel Pastor Monero, Jack Henry de Frahan, Bryan Sinkovec, Nicholas Jamieson, Nariman (Nathan) Sharifrazi, Thomas Diedrich (Airbus)
Bottom Row: Ilana Gat (Co-Chair), Sophia Casanova, Gary Li, Sung Wha Kang, Therese Jones, Mercedes Herreras Martinez